100 Crore Bollywood Movie Club
Latest Update: Salman Khan's Jai Ho has finally crossed the 100 crore mark at the domestic box office, and become the first movie to enter in 100 crore club in year 2014, but unlike the superstar's last few releases, the Sohail Khan directed remake has crawled into the 100 crore club in 10 days.
Latest Update 2 Feb 2014- Dhoom 3 has become the first Hindi film to collect Rs 100 crore in its first weekend at the box office, beating the previous record held by Shahrukh Khan Chennai Express.  YRF's Dhoom 3, has made phenomenal business over the weekend and it is the first film to record gross collections of over 200 crores worldwide in the first 3 days of release.
Updated on – 27 November 2013 : Goliyon Ki Raasleela Ram Leela has crossed the 100 crore mark on its 12th day at the box office. The film is Deepika Padukone's third 100 crore grosser this year after Chennai Express and Yeh Jawaani Hai Deewani.The film also happens to be the first 100 crore hit for both actor Ranveer Singh and director Sanjay Leela Bhansali.
Updated on – 7 November 2013 : Even though it released during the dull pre-Diwali period, Kriish 3 makes a history With 152.98 crore collection in just 6 dasy the highest grosser of all time.
Updated on – 21 Oct 2013 :Grand Masti enter in 100 crore movie club after 24 day, most interesting fact is that grand mast is the first highest grossing Bollywood film with an A (Adults Only) certificate in India, subsequently entering Bollywood's 100 crore club in India. The film was declared a Super Hit in India by Box Office India
Updated on – 7 June 2013 : Yeh Jawaani Hai Deewani' grosses Rs.100 crore, and still counting ,with the record of third fastest film to cross the 100 crore mark, after Salman Khan's Ek Tha Tiger (5 days) and Dabangg 2 (6 days). But the big difference was, both the films had holidays for EID and Christmas, while YJHD had only one weekly holiday (Sunday).
Ranbir Kapoor and Deepika Padukone-starrer "Yeh Jawaani Hai Deewani" has become the first film to cross Rs.100 crore mark within just a week of its release in 2013.
Updateed on -29 May 2013: "Aashiqui 2" has become the latest to join the Rs.100 crore club in 2013 and the second movie after Race 2 this year. Released on April 26, the musical love story, starring Aditya Roy Kapur and Shraddha Kapoor, was made on a budget of Rs.9 crore.
Update on -9 Feb 2013: Here is the first good news for Bollywood, Abbas-Mustan's action thriller Race 2 has become the first film of the year 2013 to enter Rs 100 crore elite club by grossing Rs.100.45 crore. Race 2 has managed to enter this Rs.100 club despite its bad reviews from the critics. This is first movie of Saif Ali Khan's enters in to the 100 crore club.
Update as on – 27 December 2012 : We all know Salman Khan's Dabangg 2 will crossed the 100 crore mark and now its a 100 crore formula to feature salman khan in a movie. Dabangg 2 crossed Rs 100 crore in just 6 days second fastest after Ek Tha Tiger. Dabangg 2 has no competition in the coming few weeks, we can predict Dabangg 2 has crossed 200 crore in new year 2013. and the movie Dabangg 2 have capability to break the records of box office.
Update as on 30 November 2012 : Son Of Sardar has followed Jab Tak Hai Jaan into the '100 crore elite club'. The film crossed the 100 crore mark on it's 16th day after release, which is the fastest ever for an Ajay Devgn film.

Update as on – 26 November 2012 : Jab Tak Hai Jaan Entered in to the 100 crore bollywood movie club, Yash Chopra's last directorial venture, continues to mint money. The romantic saga has earned Rs.101.26 crore at the domestic box office in 11 days since its release.
Update as on – 3 October 2012 : After being selected as India's official entry to the Oscars in the foreign language film category this year, Anurag Basu's "Barfi!" has added another feather in its cap – the film joins the Rs.100 crore club of Bollywood. The other Bollywood movies that grossed Rs.100 crore in year 2012 are – "Housefull 2", "Rowdy Rathore", "Bol Bachchan" and "Ek Tha Tiger".
Ek Tha Tiger has become the fastest Rs 200 crore grosser in the history of Hindi Cinema.Ek Tha Tiger has collected a total of Rs 202.77 crores at the worldwide Box Office in 11 days.
As expected From Salman Khan ,Ek Tha Tiger is on an absolute dream run at the box-office. After a historic 5 day weekend, the film has smashed the Monday record by 6 crores. As per early estimates, collections for the Eid holiday should be around 17 crore nett.The 6 day total is around 117 crores (official). The first extended week should be 140 crores plus.
Akshay Kumar's comedy movie Rowdy Rathore has entered the elite Rs 100 crore club. Countdown is still on for year 2012, with lots of upcoming movie which can make an entry to this club – Amir Khan's Talaash, Salman Khan's Ek Tha Tiger,Bol Bachchan ,Dabangg 2 And Yash Chopra film starring Shahrukh Khan and katrina Kaif and many more. Till the time, we are presetting the all time 100 crore movies till date .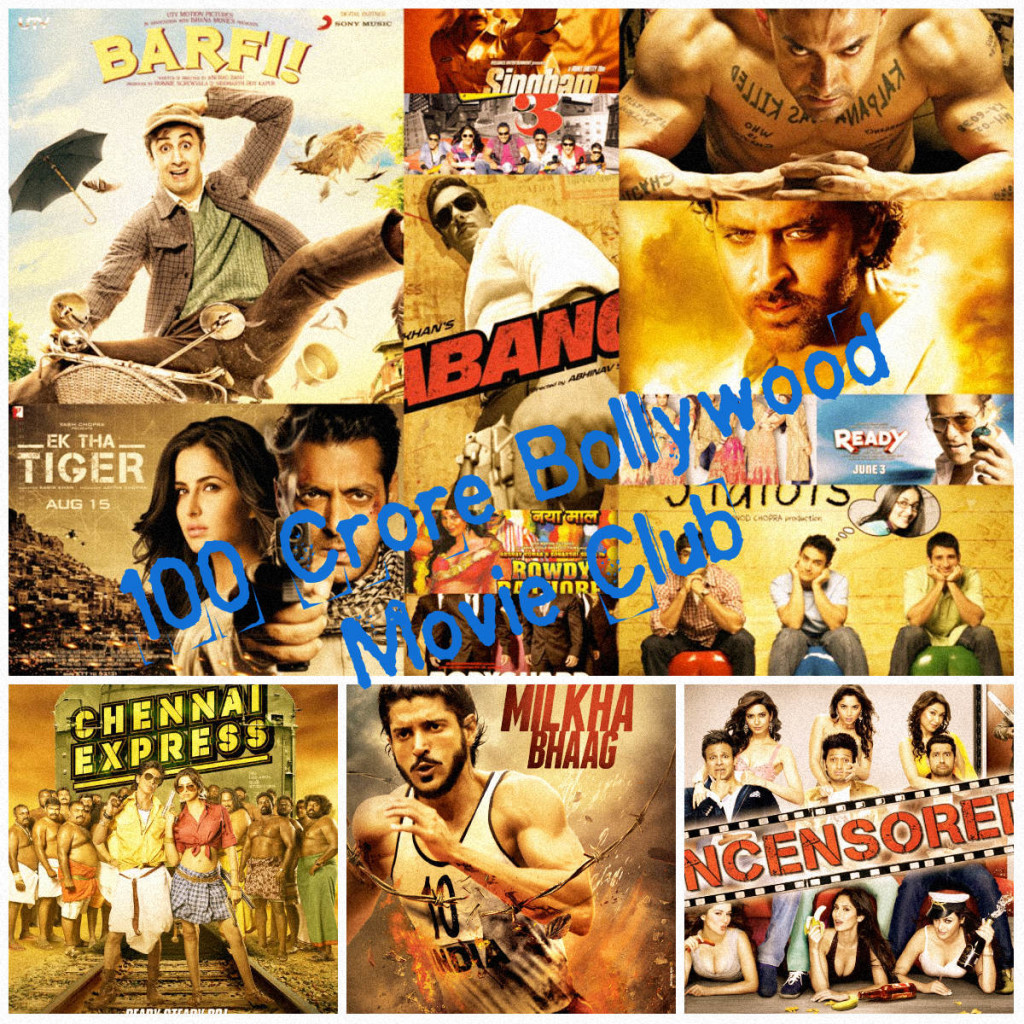 2
Average rating:
16 reviews
Jun 4, 2013
YJHD crosses Rs.60 crore in opening weekend
"Yeh Jawaani Hai Deewani" is going closely for joining the Rs.100 crore club. The Ranbir Kapoor-Deepika Padukone starrer has managed business of Rs.62.11 crore at the Indian box office in the opening weekend itself. The film has fared exceptionally well at multiplexes and was very good at single screens too
Mar 3, 2013
Rs.100 crore benchmark limiting growth of films
Karan Johar Said in interview that ,Rs.100 crore is restricting the limits of our self. We must add one more zero the Rs.100 crore films and take it to the next level. Rs.100 crore is limiting the growth and content of films. The possibilities are endless, and we must focus on Rs.1000 crore mark instead.
Feb 28, 2013
will 2013 get the success like 2012 for bollywood?
Race 2 has already entered in Rs 100 Crore club , is this a good sign for Bollywood to make good in 2013? if we can analyze the success of Race 2, we can find there is only promotion and the music of the movie get hype not the word of mouth. Kai po che is running in theaters and the word of mouth is good, but can it be touched Rs 100 Crore mark with out good star cast and low promotion.

is the stardom back again or just the hype of new promotion activity for the movies. All we can say if we can put good script with Super Stars actors then we can achieve 300 crore mark like 3 Idiots did.
Feb 13, 2013
Race 2 Worst Movie in 100 Crore Club
Race 2 does not deserve to enter in this club , must say race 2 is the worst movie of bollywood that enter in 100 crore club and become first block buster of 2013…, i am really shocked after watching this movie…
Jan 7, 2013
Dabangg 2 Crossed Rowdy Rathore
Dabangg 2 crossed rowdy rathore on box office and became the second highest grosser of 2012..
Dec 31, 2012
Dabangg 2 150 Crore
Dabangg 2 can make more then 150 crore ruppees
Dec 26, 2012
Dabangg 2 joins 100 crore club
Dabangg 2 collected 100 crore worldwid in just 5 days, Dabangg 2  will join 100 crore domestic movie club as expected in 6 days …
Dec 18, 2012
Talaash in 100 Crore club
Aamir Khan-starrer suspense thriller Taalash has made it to the Rs. 100 crore club. The film has raked in Rs.132 crore worldwide. Talaash earned Rs.86 crore at the domestic box office and Rs.46 crore overseas
Dec 11, 2012
Talaash Strongly going to join 100 crore club in just 10 days
Talaash 10 days bbox office collections are in, and it has grossed approximately Rs. 80 crore nett, with Rs.12 crore from Weekend 2.  we are yet to see if it crosses the coveted 100 crore title or not.
Dec 10, 2012
Aamir will rejoin this club
After 2 week later talaash collected 75 crore, Talaash will join 100 crore movie club as expected from aamir  khan..